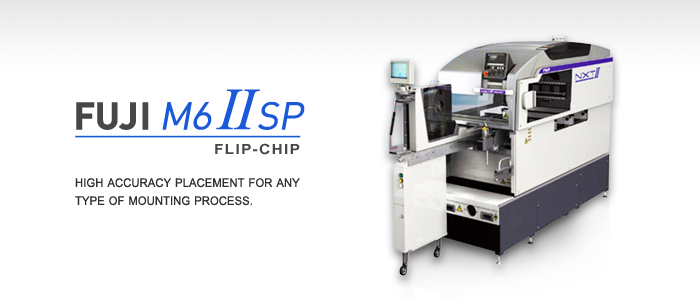 MI6IISP
THE MI6IISP IS A HIGHLY ACCURATE PLACING MODULE THAT CAN PACE A MIX OF PARTS INCLUDING SEMI-CONDUCTORS USING THE SAM TACT TIME AS THE M6S MODULE BUT WITH IMPROVED PLACEMENT QUALITY.

ACHIEVES HIGH ACCURACY PALCEMENT WITH A PLACING ACCURACY OF ±10 μm.

A MIXTURE OF BARE DIES(1) AND SMDs (SURFACE MOUNT DEVICE) CAN BE MOUNTED AT THE SAME LINE.

ALL AVAILABLE NXT II FUNCTIONS AND OPTION UNTILS CAN BE USED WITH THIS MODULE.
NOTE 1: BARE DIES ARE NON-PLASTIC MOLDED SEMI-CONDUCTOR CHIPS THAT ARE CUT FROM A WAFER.