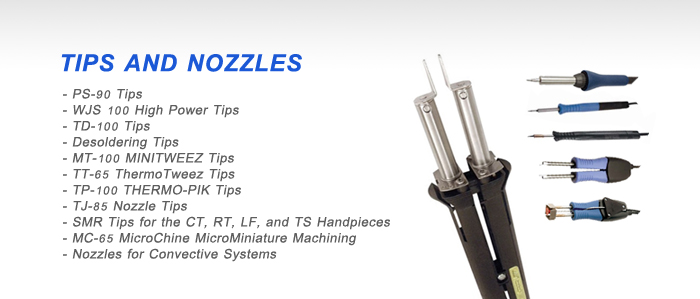 PS-90 Tips

The PS-90 soldering iron can be used with a variety of tips... from simple, single point soldering tips to more advanced surface mount tips.
WJS 100 High Power Tips

PACE's 1128 series tip heater cartridges are only for use with the WJS 100 soldering system. The WJS 100 and 1128 series tips deliver 120 watts of pure, high performance, power.
TD-100 Tips

The TD-100 soldering iron can be used with a wide range of soldering and surface mount and specialty tips.
Desoldering Tips

PACE offers 3 styles of Desoldering tips. Select the proper tips for your Desoldering handpiece
MT-100 MINITWEEZ Tips

Tips for the MT-100 MiniTweez thermal tweezer.
TT-65 ThermoTweez Tips

Tips for the TT-65 ThermoTweez.
TP-100 THERMO-PIK Tips

Tips for the TP-100 ThermoPik Handpiece. The TP-100 is used to remove QFPs from PCBs. A vacuum cup is used to lift the part after reflow.
TJ-85 Nozzle Tips

Nozzle-Tips for the TJ-85 Air Pencil
SMR Tips for the CT, RT, LF, and TS Handpieces

Tips for the Conduct Tweeze, Resistweeze, LapFlo, and Strip Tweeze Pulse Heat Handpieces
MC-65 MicroChine MicroMiniature Machining

Machining accessories for the MC-65 Microchine
Nozzles for Convective Systems

Nozzles for the ST 300, ST 325, ST 350, TF 1700, & TF 2700